PINK SHOWER BENEFITS
PINK SHOWERː
Removes blood inside the vagina after the menstrual cycle;
Performs a thorough cleaning after sex;
Softens and expels vaginal discharge.
PINK SHOWER is indicated for a proper hygiene, in case of vaginitis, PMS and menopause.
Compared to the usual douche bottles PINK SHOWER isː
More practical to use thanks to the ergonomic handle. You can easily direct the stream of water and it is not necessary, as in the classic douche, press the bottle to release its contents (which makes it awkward and complicated the right insertion of the cannula) .
Cheaper: with the same Pink Shower device can perform "endless douches", replacing only the cannula;
Always ready to use: once you buy Pink Shower, you can make the vaginal wash whenever you want in seconds without having to worry if at home you have douche bottles.
Eco-friendly: there is no waste material for every wash (bottles, cases etc ...), if not the cannula.
Less bulky: the size of Pink Shower is very small and it can be compared to 1-2 classic douche bottles.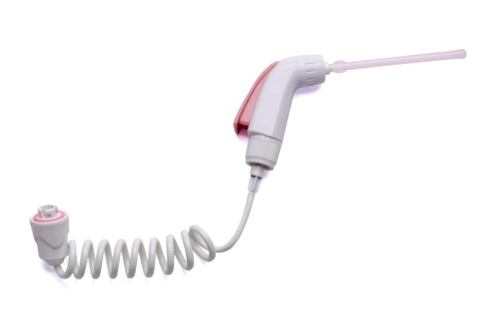 Contraindications - Pink Shower is absolutely not recommended in cases of: Post operative and post-menopause vaginal dryness; pregnancy; in health conditions that require special precautions, in some cases of skin hypersensitivity, caused by irritations, wounds, abrasions, surgical procedures and / or other inflammations. And in the case of diseases that require special precautions, it is always necessary to consult a doctor before using the device.